About Me
Create What I Love
Paintings, Sketches, etc.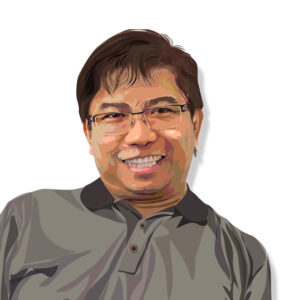 "I have painted a lot of outdoor landscapes. I always want to capture the nature, colour, light and shadows in my paintings. I may be gone one day but my work will stay to be appreciated by people forever."
This is how artist Jhun Ciolo Diamante wants his works to be remembered. Jhun has honed his creative skills at an early age. He started doing sketches of animals (such as the Philippine Carabao, Horses, Goat, etc.) and well-loved cartoon characters (like Mang Kepweng, Popeye, Voltes V, Mazinger Z, etc.) when he was a primary schooler. His mediums then were crayons and watercolour.
He had joined various on-the-spot competitions and won accolades and prizes at an early age. In 1982, Jhun won a Gold medal in one of the major competitions sponsored by the Rotary Club of San Pablo City – the "On-the-spot at the park" – wherein he painted the statue of national hero, Dr. Jose Rizal, at the main plaza of the city.
As an architecture student, he further honed his talent in the arts. In college, he was recognized for his color rendering and illustrations of buildings and designs. He received his Bachelor's degree in Architecture in 1989.
Jhun had a first taste of success as an artist when in 1987 he sold his first painting, titled, "Buko – Young Coconut" to a Malaysian tourist during a group exhibit at Le Rendez-vous, in Greenbelt Square, Makati, the Philippines' business district. From there on his passion in painting has been solidified and continued to do so to this day. "My family," Jhun said, when asked what inspires him to let his creative juices flow.
Jhun counts among his first inspirations the likes of the late Norris Castillo, a well-known Miniature artist in the Manila art scene. Jhun was then Castillo's assistant, helping the older artist in putting up his exhibits in various galleries of Manila. At this time, Jhun met some of the Philippines' celebrated artists like Jose Joya, Larry Alcala, Cesar Legaspi, Lao Lianben, Nel Lagda, Nestor Villanueva, Rey Esguerra, Zin Gamboa, Lito de Guzman, Ramon Coloma, Ramon Realuyo, Mildred Realuyo. These artists inspired him, as well as others like SYM Mendoza, Romulo Galicano, Cee Cadid, Nanding Sena, Nanding Catague, Tony Leyco, Frank Tonido, Nelia Tonido, Frank Cruzet, Toots Quiachon, Jun Afable, Omel Masalunga, Art Cunanan, Ed Araquel, Cobie Cruz, Tony Doctor, Rol Lampitoc, Bueno Silva and Romi MananQuil.
During his college days, he rubbed elbows with people making a name in the art scene, among them Norris Castillo, Nestor Villanueva, Nel Lagda, Rey Esguerra, Zin Gamboa and Lito de Guzman. He picked up various learnings and styles from their creative work.
Philippine National Artist Benedicto Cabrera, popularly known as BenCab, would also become a great influence. They would later meet at a September 2004 Philippine painting exhibit that showcased BenCab's works, as well as those of other Filipino contemporary artists from around the world. Bencab invited a former classmate Romi MananQuil and the group for a tour of his studio gallery in Tuba, Benguet, a 15-minute drive from the centre of Baguio City, and 228 kms. north of Manila.
In 1990, Jhun's first years as a painter in Bahrain were very exciting. He met a lot of Filipino Artists in the country. Most of the artists in advertising agencies in downtown "Manama" were Filipinos. 

They formed a Group of Filipino artists and had several group art exhibits in the country. And their art shows were recognized by the Sheikhs and royal family members.
Also during his stay in Bahrain, Jhun joined the arts exhibits held at the Bahrain National Museum and which were participated in by hundreds of artists from different parts of the world. During his last exhibit (before he migrated to Toronto in 1997), Jhun was interviewed and featured in Bahrain TV, together with some of his fellow Filipino artists.
Jhun's early artwork includes a 2'x3', 1983 pen and ink portrait of British icon John Lennon. Unfortunately, this pointillism style portrait was damaged at their old house. The "Grandma's Garden" in watercolour was another early creation in 1984 which he keeps to this day as part of his collection. It was an on-the-spot painting of his grandma's garden in front of their home in San Pablo, Laguna, his birthplace.
Jhun uses the various mediums of oil, pastel, watercolour, charcoal pencil, pen and ink, and acrylic. More recently, Jhun has added digital sketching, his latest foray in creating some of his works.
His inspiration for his current work is nature. "I am always fascinated with everything that surrounds me – buildings, structures, people, landscapes, plants, nature. I always want to capture in my paintings their beauty, the colours, the lights and the shadows." Observing and creating keeps Jhun busy today; he sometimes stops in the middle of the street, capturing in his memory what he sees and what he would later feature in his artwork.
Jhun's "Streets of Toronto" series is a collection of pastels and watercolours showcasing his admiration and love for the beautiful city where he and his family now reside. His current work also includes commissioned paintings for private individuals.
When asked what he sees in his creations, he says simply, "I do believe that if you want to "exist forever" in this wonderful life, you have to share your knowledge with other people and I do that through my paintings. Someday I will be gone but my paintings will last forever."
Jhun's love of the arts extends to his appreciation of other artists. He featured and promoted their art pieces at a website he launched in 1997, www.philippineartists.com.
At work in Toronto, Jhun met Romi MananQuil (www.mananquil.com), a former University of the Philippines art professor, fellow artist and founding member of the Philippine Artists Group of Canada (PAG). This meeting led to Jhun joining the group in 1999, thus becoming the first of several young talents who brought more vigour to PAG.
PAG adopted Jhun's "Philippineartists.com" website, and it then became the official, but accessible to PAG members only, website. However, Jhun`s another website, "Filipinoartists.com," launched in July 9, 2000, serves to again promote other Filipino artists. This is a FREE virtual gallery for all Filipino artists, showcasing the works of legendary and emerging names in the local art scene, a one-stop-shop reference serving art lovers/buyers, and Filipino visual artists worldwide.
As for his own work, Jhun has his own personal website, www.jhun.ca. "I will keep painting and creating what I love no matter what people say. I just want to paint and I believe someone out there would appreciate and recognize my paintings even if I'm gone from this world," Jhun said.
Jhun is also a blogger and currently active with his personal YouTube channel "#tagatoronto"
"My paintings reflect love and beauty for future generations. I'm doing this to capture and preserve the beauty of nature for the younger generation to learn and appreciate my creation."